Art's-Way 6520 GRINDER MIXER


When looking for a quality and consistent ration mix with the luxury of both portability and flexibility, look to the leader... look to Art's-Way.

The 6520 Portable Mixer offers the largest, most innovative and productive grinder mixer on the market today.
The large 165 bushel tank with a one-piece, 26 inch hammermill offers 96
4 way reversible hardened knives and 780 sq. inch grinding area.

This grinder mixer can be tailored to your specific livestock operation.

The 6520 offers many new and innovative features for time savings and lower maintenance benefits you´ve come to know and expect from Art's-Way
The fully self contained hydraulic system is operated by a wireless remote control for full functionality of the grinder mixer to include, raise/lower and swing of discharge auger, open/close of tank discharge gate and start and stop operation of the unload system.

The newly designed 10inch discharge auger features hydraulic orbit motor operation and decreases unload time by 50%.
The time tested mixing auger and tube design provides thorough mixing of ingredients for superior mix uniformity.
Stop... Compare and then look to the leader... look to Art's-Way.
Standard Features
165 Bushel Tank
One piece 26" Hammermill
96 Reversable Hammers
Self contained hydraulic system
Wireless remote control operation
10" diameter x 10´ long hydraulic discharge auger with hydraulic lift cylinder
Electric over hydraulic tank unload gate
Three large Inspection Windows in tank
Tongue jack
Highway light kit and Safety Chain
Spring Loaded tank lid
Ladder and Fenders
13.50 x 16.1 8ply tyres
Throat Magnet - #4 x 18" (24")
Ingredient Supplement Hopper
Heavy duty Implement drive line
Weigh bars and Spindles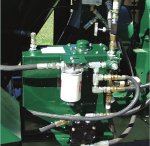 Self contained hydraulic system with wireless remote operations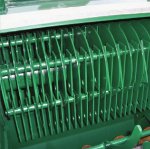 26 inch - One piece hammermill design with 96, 4-way reversible knives offers a more consistent grind for better feed rations. Grinding capacity up to 42 bu. of shelled corn per minute.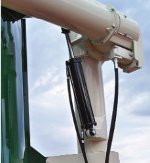 Hydraulic lift cylinder for ease of use and less maintenance. Wireless remote control operation
Optional Features
Hydraulic Auger Feeder
Swing-arm Scale support
Scale Systems
folding and bolt-on discharge Auger Extensions
Grinder Screens
Hydraulic Roll Feed
Specifications
Tank Capacity
165 Bu. (approx. 4 tons)
PTO Drive
540 or 1000 rpm
HP requirement
80 to 160 h.p.
Feeder
Gravity Hopper or Feed Auger
Auger Feeder Length
(2.4384m) 96 inches
Auger Feeder Auger Diameter
(0.254m) 10 inches
Hammermill Width
(66.04cm) 26 inches
Grinder Drive
6 Double V-Belts
Grinder Hammers
96, Hardened, 4-way Reversible
Grinder Screen Area
(0.503m2) 780 sq. inches
Screens
13 (3.175mm to 50.8mm) (1/8 to 2 inch)
Diameter of Mixing Auger
12 inch diameter Flighting, 13 inch tube,
24 inch Base
Unloading Auger Tube Diameter
(25.4 cm) 10 inch
Unloading Auger Standing reach at 45°

Standard - No Extension
(5.046m) 16 ft. 7 inches
3 foot Fold Extension
(5.69m) 18 ft. 8 inches
6 foot Fold Extension
(6.35m) 20 ft. 10 inches
Unloading Auger
225° Horizontal, 45° to -29° vertical
Tyres
13.5 x 16.1 8pr High Floatation
Supplement Hopper
(53.34cm x 60.96cm) 21 x 24 inches
Overall Height
(3.2 m) (126 ins.) 10 ft. 6 inches
Overall Width with Auger Feeder
(2.89m) (114 ins.) 9 ft. 6 inches
Overall Length
(4.44m) (175 ins.) 14 ft. 7 inches
Approx. Weight with Auger Feeder
(2041kgs.) 4500 lbs.
Ground Clearance
(33.02cm) 13 inches
E. & O.E. Stewkley Milling 2010
Photographs on this page that we have taken, or those that Art's-Way have published, may be displayed with safety shields and/or guards removed to show particular mechanical functions.