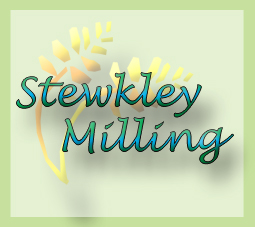 Stewkley Milling Services
Art's-Way Cattle Maxx
Art's-Way Cattle Maxx
Your Exclusive Art's-Way Distributor for the United Kingdom

Art's-Way : Agricultural mill mixing machinery.
Cattle Maxx
for consistant Cattle Ration Processing
The Art's-Way Cattle Maxx offers today's beef and dairy operations rolled feed in a quality and consistant ration mix. Both 20 and 30 inch heavy-duty rollermills are available with 10 inch diameter 5, 7 or 10 groove flat or sharp rolls. It is available in either 105 or 165 Bushel capacity.
Lower horsepower requirements of the rollermill provide greater economic mill efficiency.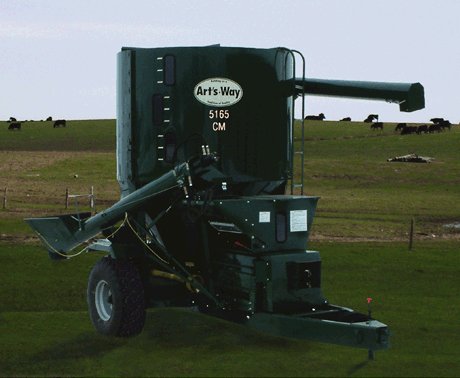 Flat Groove Roll Design
Sharp Groove Roll Design
Both flat or groove roll designs are available.

The flat groove roll insures proper grain crimping or cracking.
Sharp groove rolls increase mill capacity while achieving desired micron particle sizes.
Specifications

| Model | Cattle Maxx 5105 | Cattle Maxx 5165 |
| --- | --- | --- |
| Tank Capacity | 105 Bu. (approx. 2 tons) | 165 Bu. (approx. 4 tons) |
| PTO Drive | 540 rpm | 540 rpm |
| HP requirement | 40 to 100 h.p. | 60 to 130 h.p. |
| Feeder | Gravity Hopper or Feed Auger | Gravity Hopper or Feed Auger |
| Auger Feeder Length | (2844.8 mm) 112 inches | (2844.8 mm) 112 inches |
| Auger Feeder Auger Diameter | (203.2 mm) 8 inch | (203.2 mm) 8 inch |
| | | |
| Rollermill Width | (508 mm) 20 inches | (762 mm) 30 inches |
| Diameter of Mixing Auger | 12 inch Auger 24 inch Base | 12 inch Auger 24 inch Base |
| Unloading Auger Tube Diameter | (203.2 mm) 8 inch | (203.2 mm) 8 inch |
| Unloading Auger Tube Length | (3048 mm) 10 ft | (3048 mm) 10 ft |
| Unloading Auger Swing | 324° Horizontal | 316° Horizontal |
| Tyres | 10 x 15 8pr rib implement | 13.5 x 16.1 8pr High Floatation |
| Supplement Hopper | (53.34cm x 60.96cm) 21 x 24 inches | (53.34cm x 60.96cm) 21 x 24 inches |
| | | |
| Overall Height | (2692 mm ) (106 ins.) 8 ft. 10 inches | (3.2 m) (126 ins.) 10 ft. 6 inches |
| Overall Width with Auger Feeder | (2413 mm) (95 ins.) 7 ft. 11 inches | (2895.6 mm) (114 ins.) 9 ft. 6 inches |
| Overall Length | (4318 mm) (170 ins.) 14 ft. 2 inches | (4445 mm) (175 ins.) 14 ft. 7 inches |
| Approx. Weight with Auger Feeder | (1606 kgs.) 3540 lbs. | (2041 kgs.) 4500 lbs. |
| Ground Clearance | (254 mm) 10 inches | (330.2 mm) 13 inches |
E. & O.E. Stewkley Milling 2009